2020 Product Highlights
Display 1 - 15 of 15 Companys
Page 1
Alan Machinery Import&Export Co.,Ltd

Applicable for packing various products, new design, beautiful appearance, reasonable structure, more advanced technology. 1.Stepping motor control 2.PID temperature controller 3.Micro-computer processor 4.Stainless steel material

Galaxy Sivtek has widest range of Sieving & Filtering machines for more than 12+ industries including sublime industries like food, beverages, and pharmaceutical. We manufacture elite sifters, separators & filters in various variants ranging from round vibro sifters & rectangular separators to centrifugal sifters.

With the introduction of the GMS 5000 ECD model, the Gericke Multiflux?? batch mixer line received its largest model so far. Despite the maximal useful volume of 4000 litres, the mixer provides the same outstanding accessibility for cleaning and short mixing time that the GMS mixer line is known for
Handyware Philippines, Inc.

Features: 1. Interactive LCD touch panel display allows for easy and friendly operation. 2. Servo motor drives end seal to increase stability of the sealing function. 3. Simple, functional, low maintenance construction. 4. Vacuum belt film draw down system is controlled by servo motor. Application: Coffee, milk, powders, granule, etc.
Hiroyuki Industries (M) Sdn Bhd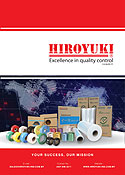 We are specialist in manufacturing of high quality PP & PET Strapping Bands,Cast Stretch Film for the past 18 years.Currently we are expanding our Business to B2B Food Grade rPET Resin and Premium Grade PET flakes-1st Maker in Malaysia with latest technology for production of High quality rPET resin
Hosokawa Alpine Atiengesellschaft & Co.

The new HX Select extruder is ideally suited for processing materials such as LLDPE, mLLDPE and PCR and bioplastics. With an energy saving of up to 20 per cent versus standard grooved barrel extruders and an up to 50 per higher melt performance, HX Select ensures more efficient film production.
J.C. Domingo Enterprises Corporation

Can Making | Can Packaging – Food & Beverage | Online & Offline Inspection Systems Food Manufacturing – Machines & Supplies | Aftermarket Machine Parts | Technical Services Lithography | Metal Fabrication | Consultancy | Consumer Solutions | Trading
JBT International (Thailand) Ltd.

JBT Batch Retort Sterilizers are all equipped with a Steam Water Spray System (SWS), ensuring uniform and efficient thermal processing of your packaged foods. JBT Frigoscandia Freezer created the frozen foods market as we know with a variety of breakthrough products, including the self-stacking GYRoCOMPACT Spiral freezer, the FLoFREEZE IQF freezer.
Kwang Dah Enterprises Corp.

Kwang Dah is the largest and most professional manufacturer of Pharmaceutical & Packing Equipment in Taiwan more than 70 years. We have manufactured the series of machine: Capsule Filling, Counting, Blister Packing, Cartoning, Labeling, Liquid Filling, Plugging and Capping, Turnkey Project. Certified by ISO 9001 quality system, meets cG.M.P., FDA, PIC/S & CE, SGS.
Miura Singapore Co Pte Ltd

MIURA Once Thru-Boiler (SLIM DESIGN) SI2000 GVS 98% Maximum Efficiency SI2000 FVS 95% Maximum Efficiency Miura Boiler's is the Best Partner of Energy, Water and Environment for being Environmentally friendly, with high boiler efficiency and low running cost.
Separation Techniques Pvt. Ltd.

USE IN PROCESSING INDUSTRIES TO REMOVE IMPURITIES/GRADE.

Autoclave / retort machine using cascading water process for all applications in food processing and pharmaceutical industries in cans, glass jars, pouches, plastric sealed trays... From 900mm up to 2000mm with all kind of accessories including platular heat exchanger.
VCP Trading International Corporation

VCP Trading International Corp. is an authorized Philippine distributor of various solution-based products such as; • Videojet Marking and Coding Technology • Duralabel Industrial Label Makers • Lincoln - Handheld coders
Victorious Team Provider Corporation

Technical Service, Aftermarket, Machineries, Equipment Pouch Form-Fill-Seal, Can-Making, Can-Filling, Can-Closing, Processing Equipment, Laboratory Equipment, Leakage Testing, Twist Capping, Inline Packaging and/or Product Inspection. Products: Beverages (fruit juice, beer, water, carbonated softdrinks) Fruits (whole, diced, chunks, crushed, dried) Nuts, Pasta, Confectionaries (candies, chocolates, biscuits...) Processing, Filling, Closing, Sealing, Weighing, Packaging, Labeling, Microwave Drying, Inspection
Winner Inter Plas Co., Ltd

Winner Center Place Co., Ltd. is the Thailand's finest plastic injection molding manufacturer in plastic pallets, bins, containers and other related plastic products. Our "Dino" product lines are manufactured with highest precision, reliability and quality under the trademark "Dino Plus".