Press Release & Industry News
ProPak Philippines opens at World Trade Center, Pasay City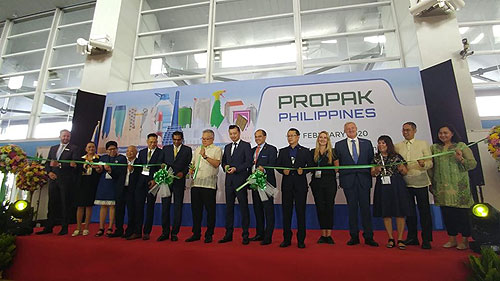 It's all systems go for the staging of ProPak Philippines 2020, the country's biggest packaging and processing trade show from February 5 to 7 at the World Trade Center in Pasay City.
Gracing the opening ceremony are keynote speakers DTI Secretary Ramon Lopez and Hon. Rep. Weslie Gatchalian, Chairman of the House Committee on Trade and Industry. The World Packaging Organization (WPO), represented by its president Jean Pierre Pienaar, and the Australian Institute of Packaging (AIP), represented by its Executive Director Nerida Kelton, also lend their support to the event, together with partner associations including the Packaging Institute of the Philippines (PIP). The event will host onsite seminars and packaging workshops to be conducted by PIP, AIP, DOST and DTI.
ProPak Philippines boasts of more than 400 exhibitors from 30 countries and regions and will feature advanced packaging technologies and solutions that would benefit a wide range of sectors. Now on its second year in the country, it is expected to attract at least 12,000 international and local guests.
UBM Exhibitions Philippines Inc. under Informa Markets, organizers of Propak assures participants and visitors that they have precautionary measures in place in light of the issues concerning the novel coronavirus (n-CoV); such as hall disinfecting and misting, temperature screening by medical professionals, standby ambulance and first aids stations.
UBM Exhibitions Philippines Inc. regrets to inform guests that the China pavilion is unable to join this year due to travel restrictions by both the Chinese and Philippine governments to protect its citizens.
Propak Philippines 2020 has secured the necessary permit from the city government of Pasay to conduct the event. In addition to working with the venue on creating a safe environment, it will also monitor entrance of visitors from High Alert regions.
The World Packaging Organization, Australian Institute of Packaging and the Philippine Institute of Packaging have all extended their support for ProPak Philippines and will share their expertise thru seminars and workshops during the three-day show.
Among topics and issues they will discuss include packaging technologies, supply chain management, processing operations for food processing, pharmaceuticals, FMCG (fast moving consumer goods), agro-industries, and cosmetics.ProPak Philippines 2020 is supported by the Department of Trade and Industry (DTI), the Department of Science and Technology (DOST), Packaging Institute of the Philippines (PIP), the Philippine Association of Food Technologists Inc. (PAFT, Inc.), Dairy Confederation of the Philippines (DairyCon), Philippine Pharmaceuticals Manufacturers Association (PPMA), Production and Operations Management Association of the Philippines (PROMAP), Philippine Printing Technical Foundation (PPTF), Association of Filipino Franchisers Inc. (AFFI), Cold Chain Association of the Philippines (CCAP), Philippine Association of Meat Processors Inc. (PAMPI) and Association of Laguna Food Processors, Inc. (ALAFOP).