Press Release & Industry News
ProPak Philippines 2020 Total Solutions for Processing and Packaging Industries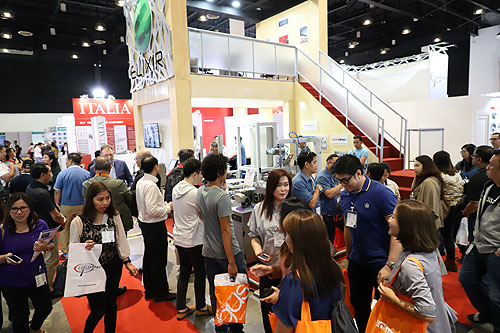 After the success of the pioneer edition of The International Processing and Packaging Exhibition for the Philippines – ProPak Philippines, having 386 exhibitors from 30 countries, 9,229 trade visitors from 28 countries, and 9 country pavilions, it will once again stage its 2nd edition at the World Trade Center Metro Manila on 05 – 07 February 2020.
ProPak Philippines has been aiming to be the only processing and packaging trade show in the Philippines that will showcase the latest and innovative solutions and technologies in the field of processing and packaging. Aside from that, ProPak Philippines also have been helping the industry by inviting local and foreign speakers to share knowledge to the people who attends the show and its seminars and conferences.
ProPak Philippines will be the perfect platform to access a robust and expanding industry in need of new machines and technology. This show will support local industry to expand and innovate its processing and packaging industries especially for the food, beverages and pharmaceutical sectors.
The show is expected to attract over 450 exhibitors from across the world, with 11 international pavilions from China, Denmark, Germany, Italy, Japan, Korea, Malaysia, Singapore, Taiwan, Thailand, and UK. It is also expected to attract over 12,000 industry trade visitors looking to source for new products, latest technologies and potential business partners that will help generate and support growing business.
This international processing and packaging exhibition for the Philippines – ProPak Philippines, has been supported by the Department of Trade and Industry, Department of Science and Technology, Packaging Institute of the Philippines, Association of Laguna Food Processors Inc., Association of Small & Medium Enterprises, Australian Institute of Packaging, Confederation of Danish Industry – Dansk Industri, Dairy Confederation of the Philippines, Italian Packaging Machinery Manufacturers Association, Philippine Association of Food Technologists, Inc., Philippine Pharmaceutical Manufacturers Association, Philippine Printing Technical Foundation Inc., Processing and Packaging Machinery Association, Production Management Association of the Philippines, Taiwan Association of Machinery Industry.
Visitor pre-registration is now open at www.propakphilippines.com.
For more details please contact Ms. Danah Isabel F. Castillo at +63 2 8581 1921 or through email at [email protected]
About Informa MarketsPropak Philippines is organised by Informa Markets, a division of Informa plc.Informa Markets creates platforms for industries and specialist markets to trade, innovate and grow. Our portfolio is comprised of more than 550 international B2B events and brands in markets including Healthcare & Pharmaceuticals, Infrastructure, Construction & Real Estate, Fashion & Apparel, Hospitality, Food & Beverage, and Health & Nutrition, among others. We provide customers and partners around the globe with opportunities to engage, experience and do business through face-to-face exhibitions, specialist digital content and actionable data solutions. As the world's leading exhibitions organiser, we bring a diverse range of specialist markets to life, unlocking opportunities and helping them to thrive 365 days of the year. For more information, please visit www.informamarkets.com.