2019 Exhibitor List
CERUTTI PACKAGING EQUIPMENT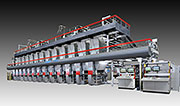 R98X is a hi-tech gravure press where speed of job changeover and flexibility count. This press has been redesigned featuring an advanced ventilation system, result of a commitment to the issues of technological improvement concerning energy savings, ergonomics and integration of machine control with the new industry 4.0 technology.
Company Name: CERUTTI PACKAGING EQUIPMENT
Stand No.: D21
Country: ITALY

Cerutti Packaging Equipment is a world leading manufacturer of rotogravure presses for publication, packaging and specialties printing and converting equipment. With its production sites in Italy, one R&D Centre and one Software Design Centre, as well as a capillary network of Service Centres, Cerutti is a worldwide esteemed Group, synonym of quality and reliability.
Via Marcello Adam 66 15033,
Casale Monferrato (AL) Italy
Tel : +39 0142 459413
Fax : +39 0142 76350
E-mail : [email protected]
Website : www.cerutti.it