2019 Exhibitor List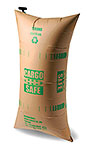 This dunnage airbag is using to protect and prevent any damage during transportation. It would help any customer to save time and cost. This is much more efficient and effective to transportation. Plus the best benefit is environment friendly.
Company Name: CARGO PERFECT Co.,Ltd.
Stand No.: H6
Country: THAILAND

We are a manufacturer from Thailand, Cargo Perfect Co., Ltd. with an almost 20 years experiences of Airbag , natural Desiccant and Container/Protective Liner, with a global quality products certified and export worldwide.
33/1 Moo 4 Samkok-Sena Road, Tumbol Kokchang, Amphur Bangsai,
Ayudhaya 13190 Thailand
Tel : +66 2 978 8869-72 ext 347
Fax : +66 2 199 3905
E-mail : [email protected] ; [email protected]
Website : www.cargoperfect.com