2019 Exhibitor List
ASIA INTEGRATED MACHINE, INC.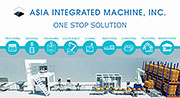 Asia Integrated Machine, Inc. never stops seeking out new and innovative machineries to render ever satisfying services to our customers. Our services throughout the country are the leading solution provides what our customers find most important about us is our personal services.
Company Name: ASIA INTEGRATED MACHINE, INC.
Stand No.: E1
Country: PHILIPPINES

To be globally preferred manufacturing and logistics supplier of total systems solutions through trustworthy and expert service and enhances our customers business resulting in increased efficiency and productivity levels. Every customer is our source of strength and inspiration to continuously take the reins of being no. 1 in our industry.
128 Lopez Rizal Street, Brgy. Highway Hills,
Mandaluyong City, 1550 Philippines
Tel : +63 2 532 5875-82
Fax : +63 2 532 5881
E-mail : [email protected]
Website : www.aim.net.ph